A number of legal blogs have latched onto proposed new rules in New York governing lawyer advertising. The only problem with these rules: They arguably apply to blogs -- even those blogs originating out of state, or even
international
law blogs.
Allison Shields of the
LegalEase
blog summarized the draft rule in an early June 15, 2006 post:
Every lawyer needs to be aware of the proposed rules, since they apply not only to lawyers that practice in New York, but also to lawyers that solicit business in New York, which, according to the rules, would include any lawyer whose advertisements on the web can be viewed in New York.
In an article in today's edition of the ABA e-Report,
Blogosphere Aboil: N.Y. Proposal Would Designate Lawyer Blogs as Advertising
, Stephanie Ward outlines the battle lines:
The storm was set off by a proposal that 'computer-accessed communications' such as blogs be included in New York's definition of legal advertising, and therefore require state scrutiny. The proposal, by a committee created by the state's Administrative Board of Courts, also suggests the state code of professional responsibility extend court jurisdiction to out-of-state legal advertising that appears in New York.

"Could I be disciplined by New York state because there are pay-per-click adverts on my weblog or seminars, and these are interpreted as acts which 'solicit legal services'?" asked Justin Patten, a solicitor in England who posts at his blog, Human Law.
After reviewing the
proposed rule
, it seems to me that it would not only apply to bloggers, but
any
firm which posts a website. Many firms, for example, include articles, informational pieces, and other written material which would consitute an advertisment or solicitation for business to the same degree as blogs.
There have been many good pieces written relating to this proposal; however, I must admit that the proposal which will create the greatest heartache for me -- and the most
angst
-- is this one:
An advertisement or solicitation shall not: . . .

(4) Include the portrayal of a judge, the portrayal of a lawyer by a non-lawyer, the portrayal of a law firm as a fictitious entity, the use of a fictitious name to refer to lawyers not associated together in a law firm, or otherwise imply that lawyers are associated in a law firm if that is not the case;

(5) depict the use of a courtroom or courthouse[.]

Section 1200.6(d)(4)-(5)

Personally, I'm going to have a very tough time with both of these new "advertising" requirements. So -- to get it out of my system before I have to either close down this blog or comply with the onerous state regulations of the aptly named
Empire State
-- here is a photo of my favorite
judge
, expressing what I think about this whole thing, captured in a picture from the
Boston Herald
:

And, in another act of civil/estate planning disobedience against the great State of New York, here are a few pictures worth considering on this humble blog...isn't this
courthouse
beautiful?

And...how about this Minneapolis
courtroom
(yes, a **gasp**
courtroom
which is, incidentally, also quite beautiful) ...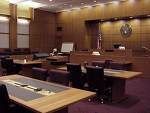 Perhaps the fact the courtroom is in Minnesota will reduce my administrative sanction.
Take that, New York.
(Hat tip to
Prof. Beyer
for bringing this nonsense to my attention)